Willa is labeled The Country Girl in Total Drama Teens. 
Willa
Screaming Outcasts

Gender
Female
Hair color
Blond
Eye color
Brown
Episode Eliminated
"Welcome to Camp Wawanakwa!"
Place
22nd
Relationship
None
Friends
July
Biography
Willa was born and raised on a farm. She has a great knowledge on farm animals. She has a strong country accent and she doesn't like be stereotyped into being a redneck or hick.
Total Drama Teens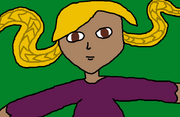 Chapter #1: "Welcome to Camp Wawanakwa!": Willa is introduced as a country girl and is assigned to the Screaming Outcasts team. She bonds with both July and Lluvy. Willa agrees on where her team is staying in the woods. When it is time for the campers to wake up and race back to camp, Willa is left behind asleep by her team. She makes her team lose by not showing up before the Killer Losers got there. She is then voted out at the marshmallow elimination ceremony, and when she leaves Alison states that it is Willa's fault that they lost.
Chapter #18: "I Should Have Gotten Eliminated Awhile Ago.": 
Willa is seen at
the spa with July. She states she has been at the spa most the time at Playa Des Losers. When asked what she thinks about the final five, she calls Alison a heffer. Willa votes for Phoebe to win.
Chapter #21: "Who Wants To Win A Billion Dollars?": Willa roots for Phoebe in the final challenge. She is still invited to Anton's afterparty.
Trivia
She was the first voted off in the story, and first voted off of the Screaming Outcasts.
She was the first female contestant to be voted off.
Willa received no marshmallows at all.
Ad blocker interference detected!
Wikia is a free-to-use site that makes money from advertising. We have a modified experience for viewers using ad blockers

Wikia is not accessible if you've made further modifications. Remove the custom ad blocker rule(s) and the page will load as expected.