Tony: "The Extreme Skateboarder"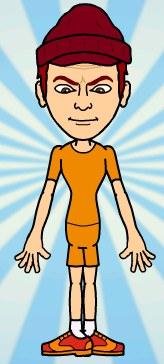 Age: 15
Sex: Male
Race: Caucasian
Physical Description
Wears a red bike helmet, and carries around a red skateboard with orange lightning bolts plastered all over it. He also has unkempt red hair, freckles, brown eyes, an orange T-shirt, orange shorts, and red sneakers covered orange lightning bolts. He also has a few cuts on her face and arms.
Bio
Tony is one of the most reckless teens you'll ever come across, and he loves every minute of it. His father was a skateboarder and her mother is usually busy with business work, so he's always had pretty lax parenting. As a result, when he got his first skateboard when he was five and promptly injured himself by trying to do a trick off the steps, his father simply paid for the surgery and signed her up for skateboarding lessons. The teacher was a bit more careful with his students, but even he couldn't control Tony's boundless energy, and Tony pulled all sorts of crazy stunts after the lessons. While most of them worked, some of them resulted in him getting injured, but he always got back up and continued to go wild on his skateboard. At school, Tony's cuts and general free spirit made him very popular since elementary school, and most of his friends didn't necessarily discourage his wicked stunts. Plus, you would think that he would have eventually gotten crippled due to his stunts, but despite his craziness, he's very naturally talented at boarding, and the worst injury he got was a pretty bad concussion he acquired when he was eight. Incidentally, the stunt that lead to his concussion was the most dangerous stunt that he ever tried due to the sheer height of the ramp he took his skateboard off of. Plus, while he is a reckless and crazy daredevil, he isn't stupid. He has never tried to go down a ramp of that height since that incident, nor does she bring in other things for her stunts that could really hurt her, such as fire rings. Tony auditioned for Total Drama Isle to show the campers his wicked skateboard stunts and perhaps even discover new ways to ignore gravity with his all-powerful board.
Audition Tape
(We cut to a guy doing a triple backflip on a halfpipe, sticking the landing pretty darn well, and using the momentum to ride his skateboard up to the camera.) "Woo! What's up, Total Drama Isle? I'm Tony, and I love skateboarding! I love the wind through my hair, the sense of freedom I get, and the variety of amazing stunts I can do on my board! It makes me feel so very much alive, just like it did for my dad! And I'll bet I can do so many more new and awesome stunts on the island, so if you want a crazy daredevil camper..." (uses his foot to flip the skateboard up to his right hand, uses his left hand to point to himself, and winks) "Pick me!"
Ad blocker interference detected!
Wikia is a free-to-use site that makes money from advertising. We have a modified experience for viewers using ad blockers

Wikia is not accessible if you've made further modifications. Remove the custom ad blocker rule(s) and the page will load as expected.