Rebecca: "The Kind Cheerleader"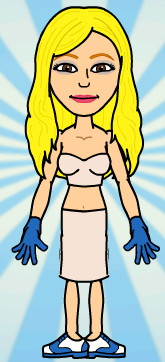 Age: 16
Sex: Female
Race: Caucasian
Physical Description
Has long, blonde hair (even though she isn't a natural blonde), brown eyes, a white top with blue outlines which doesn't cover her toned stomach, a white skirt with blue outlines, and actually has white shorts underneath her skirt instead of panties. She usually carries a white baton with blue ends, and wears white sneakers. She isn't the bustiest, but she's in very good shape.
Bio
Ever since Rebecca was young, she's been interested in gymnastics. In fact, her mother was a professional gymnast before she gave birth to her. And after one day when Rebecca performed a human pretzel without difficulty when she was four, her parents discovered that she had a talent for flexibility. So, Rebecca's mother signed her up for gymnastic classes, and Rebecca has been working on her upper body strength and flexibility ever since. Once Rebecca got to elementary school, she joined her school's gymnastics club, and the club leader discovered that she was one of the most talented gymnasts in the club. However, instead of boosting Rebecca's ego, the leader treated everyone as equals, and this allowed Rebecca to make some good friends who had similar interests as her. After elementary school, Rebecca continued to develop her gymnastic talents and expanded her friend pool (making sure to stay away from most of the false friends) in middle school, and by the time she got to high school, one of her best friends introduced her to her school's cheerleading squad. After reading through what her squad did and want training they took part in, Rebecca became very excited and tried out for the squad in her freshman year. Due to her previous years of gymnastics, she made the cut pretty easily, and over three years of school, she rose in prominence to become one of the top cheerleaders of her school. However, despite all of her talent and influx of popularity, it's clear Rebecca's parents raised her right, because if you get the chance to talk to her, you'll find that she's quite the bubbly sweetheart who truly enjoys helping her school spirit rise as well as helping the newer members of the squad perfect their routines. Rebecca tried out for Total Drama Isle after seeing one too many high school movies portray cheerleaders as stuck-up snobs, when she's clearly anything but a stuck-up snob.
Audition Tape
(the camera is on top of the bleachers, and Rebecca's face is pretty close to the camera.) "Hey, Total Drama Isle! I'm Rebecca, and I'm a cheerleader! ...Not one of those movie cheerleaders though, don't worry! I'd like to lead a little cheer for my audition, alright? OK, here we go!" (turns the camera towards her squad, and she pulls out her baton. Not all members of her squad agreed to go through with this, but you can see that Rebecca is leading about ten other cheerleaders, who perform a routine with the letters and all, and the cheer goes like...) "T-O-T-A-L! D-R-A-M-A! I-S-L-E! PIIIIIIIIIIIICK REBECCA!" (It dissolves to a party of girlish excitement,and Rebecca says, sincerely) "Thank you so much for helping me with this cheer, girls!" (Turns back to the camera.) "Anyway, if you want to see that cheerleaders can be nice, or you just want a contestant with lots of energy, please pick me!"
Ad blocker interference detected!
Wikia is a free-to-use site that makes money from advertising. We have a modified experience for viewers using ad blockers

Wikia is not accessible if you've made further modifications. Remove the custom ad blocker rule(s) and the page will load as expected.