Total Drama Island: Wrath of the Wraith is the latest season by the creators of the Total Drama series. Unlike past seasons however, Total Drama Island: Wrath of the Wraith features a new twist that promises to shake up the game like it has never been shaken up before. The cast includes 20 brand new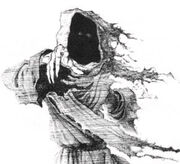 characters to the Total Drama Island series, and both Host Chris McLean and Chef Hatchet making their returns. 

The game changing twist has promised to be "Ground-Breaking" according to Host Chris McLean. "It is something that has been done on other reality shows but certainly not on a Total Drama Island season and we plan to spicen it up to keep our viewers and contestants guessing."
No announcement date has been released yet as to when the season premieres. 
Characters Bios
Coming Soon!
Audition Tapes
Audition tapes are currently being evaluated!
Episodes
Ad blocker interference detected!
Wikia is a free-to-use site that makes money from advertising. We have a modified experience for viewers using ad blockers

Wikia is not accessible if you've made further modifications. Remove the custom ad blocker rule(s) and the page will load as expected.