This story is rated PG-13.
There is some language or violence that may not be appropriate for people under thirteen years of age.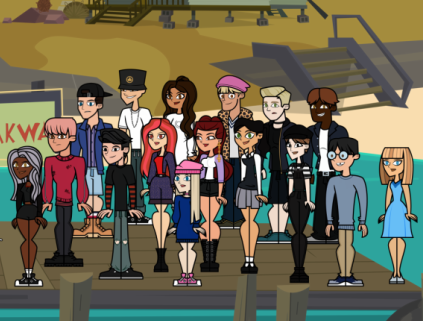 Total Drama Game Over is the 1st season created by XoTeenageTragedy.
UNDER CONSTRUCTION ~
Cast
Game summary
Elimination chart
Episode
Immune
G.O.G contestants
Gamer Over Game
G.O.G outcome
#
Challenge
Last-place
Voted in
Winner
Loser
1
2
3
Game Over progress
Teams
Challenges
1
2
3
4
5
6
7
8
9
10
Finale
Anthony
SAFE
Brad
SAFE
Desiree
SAFE
Felice
SAFE
Sasha
SAFE
Liam
SAFE
Veronica
SAFE
Xenogene
SAFE
Chili
SAFE
Jamie
SAFE
Kasey
SAFE
Marissa
SAFE
Regan
SAFE
Preston
SAFE
Warren
SAFE
Yvette
SAFE
Ad blocker interference detected!
Wikia is a free-to-use site that makes money from advertising. We have a modified experience for viewers using ad blockers

Wikia is not accessible if you've made further modifications. Remove the custom ad blocker rule(s) and the page will load as expected.