This story is rated PG.
There may be some content not for younger kids. However, there is nothing here they wouldn't say on the Total Drama series.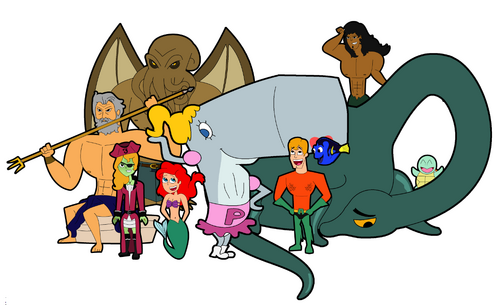 When Poseidon is dethroned by a force truly evil, the fate of the seven seas rests in the hands of ten complete strangers from all swims of life. As this ragtag bunch of misfits attempts to save the day, however, they are trapped in Evil's sick and twisted game, confronted by each other's personal greed, goals, and ambitions. Madness breaks out as different factions emerge within the group; those who are only out for themselves, and those who still seek to return Poseidon to his throne. Will good prevail and will balance be restored to the seas, or will Evil's little game stop the group dead in its tracks as it sets up a most harrowing plot?
Find out all this, and more, on Total... Drama... Under the Sea!
Cast
Chapters
TBA
Elimination Chart
| Contestant | 1 |
| --- | --- |
| Ariel | |
| Dory | |
| Joan | |
| Lo | |
| Pearl | |
| Aquaman | |
| Cthulhu | |
| Poseidon | |
| Squirtle | |
| Tyrone | |
     This contestant was a member of the 'Cataclysmic Clams' team.
     This contestant was a member of the 'Lulzy Lobsters' team.
Ad blocker interference detected!
Wikia is a free-to-use site that makes money from advertising. We have a modified experience for viewers using ad blockers

Wikia is not accessible if you've made further modifications. Remove the custom ad blocker rule(s) and the page will load as expected.