These are the Contestant Biographies for Total Drama All-Stars Redo.
Biographies
Alejandro

Alejandro's suave ways helped him out in Total Drama World Tour, but now that everyone knows his true nature, will he be a quick out? He's sure that he'll be able to charm his way to the finale once again, and win the heart of a special someone along the way.
Anne Maria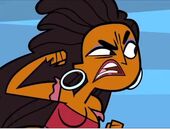 Anne Maria rocks a tough as nails personality with determination to boot, but of course she won't do anything at the expense of her looks! And she's not going to let any counterfeit jewels get in the way of her victory this time; she's got her eyes on the prize.
Brick
Brick is a military cadet with dreams of going to fashion school; and that's what he'll spend the million on, should he win it. Of course, he's also going to win with integrity, loyalty and honesty, and hopefully make some friends too.
Bridgette
Bridgette is a soulful surfer girl who loves animals; if she wins, she'll spend her money on donations to animal rights charities and a beachside home for her and her boyfriend Geoff to live in. But she knows she needs to up her game. After two seasons of lousy performances, she needs to prove her All-Star status.
UNDER CONSTRUCTION
Ad blocker interference detected!
Wikia is a free-to-use site that makes money from advertising. We have a modified experience for viewers using ad blockers

Wikia is not accessible if you've made further modifications. Remove the custom ad blocker rule(s) and the page will load as expected.