Quinlan is labeled The Bully in Total Drama Teens 2.0. 
Quinlan
Daring Delinquents

Gender
Male
Hair color
Brown
Eye color
Black
Episode Eliminated
"This is My Worst Nightmare."
Place
18th
Enemies
Frederick, Ig, Cadence, Una, Viktor, Xenia
Fear
Kittens
Biography
Quinlan has extreme anger issues and takes it out on other people. Quinlan began bullying when he had enough of being bullying himself. He used to be made fun of for failing a few grades as he is not the smartest kid, and for being short as well. He started eating a lot more protein and drinking a lot of protein shakes to become bigger. His height did not approve too much, but he worked out enough to make up for it in strength. He joined the show for the money and to prove he's the strongest.
Total Drama Teens 2.0
Chapter #1: "Welcome, New Campers!": Quinlan is introduced and he doesn't even say anything, but he grunts and walks past Chris. Quinlan is put on the Daring Delinquents team. Quinlan tells Ig to shut up when they're in the cabin. Quinlan picks the first bunk in his cabin and crushes the top bunk. He grunts and scares Frederick.
Chapter #1.5: "Are You Sure This is Safe?": Quinlan upsets Cadence and Frederick when he mocks her rejecting Frederick. He carries the jousting stick for his team. He upsets his team by saying they run like pansies and that they are weak. His team wins the challenge.
Chapter #2: "Out of All Things We Have to Chase After, it's a Shark.": Quinlan chases Frederick down in the beginning of the chapter due to Frederick accidentally insulting him. Quinlan tries to join in insulting Frederick with Cadence, but she shuts him down. Una glares at him when he seems to bring their team down. His team wins.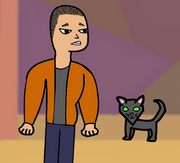 Chapter #3: "This is My Worst Nightmare.": Quinlan tries to harrass Xenia and Viktor, but is scared away by Xenia. He loses his team a point by not facing his fear of kittens. His team loses, and he is eliminated due to his harassment of his team members and not being able to face his fear.
Gallery
Ad blocker interference detected!
Wikia is a free-to-use site that makes money from advertising. We have a modified experience for viewers using ad blockers

Wikia is not accessible if you've made further modifications. Remove the custom ad blocker rule(s) and the page will load as expected.