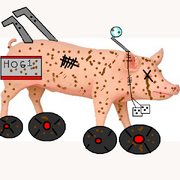 Pig, Matt's Taxidermy pet is a character set to appear in several stories.
Pig first appeared in Chapter 2 (The 1st grade Dance). Matt is seen dragging him across the way. When Nalyd sees Matt with the creature, he describes Matt as "A weirdo." Pig stands as Matt and Sunshine's companion and friend even though he IS dead. He is seen as a mentor for Matt and his friends.
Meeting Matt
Matt and Pig do everything together. They met like this: Matt was drawing comics on his desk, when suddenly, The Grim Reaper appeared in his room and told him that it was his time. Matt misplaced the reaper for the pizza guy and asked where the pizza was. The reaper explained and Matt seemed to understand. Matt asked if there was anyway he could live longer. The reaper offered him a "Idiot hog" Who annoyed him through the week without doubt. When Matt asked about Pig, he was told that Pig was magic. He excepted the offer and called out the door, "Bye, Death!"
Notes
Pig's real name is "Dave".
"He was originally a monkey named Steve," says the creator, Matt. "But I thought the readers would dig it more if I used a smart Pig who we called...er... Pig..."
The first hint of Pig was when the creator once described "Riding in a carriage which is being pulled by Zombie Hogs."
Ad blocker interference detected!
Wikia is a free-to-use site that makes money from advertising. We have a modified experience for viewers using ad blockers

Wikia is not accessible if you've made further modifications. Remove the custom ad blocker rule(s) and the page will load as expected.