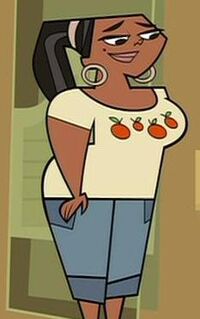 This character page is designed for use with Total Drama Island, by Gilbert and Sullivan
Characterization
LeShawna is a "sister" with a big heart and a bigger attitude. Harold's reaction upon first meeting her ("You're real big. And loud.") sums it up nicely. Like Gwen, LeShawna's main dramatic function was as a foil to Heather; and the writers seemed to regard LeShawna and Gwen as an either/or proposition. Only once (Episode #16, "Search and Do Not Destroy") did they both have major roles in the same episode.
Eliminated due to vote manipulation by Chris, LeShawna was the third evictee who had to be removed by force, being too stunned to put one foot in front of the other. She is one of the two female contestants (along with Bridgette) most widely liked by her fellows.
LeShawna was the only character to comment on the ethnicity of other characters, presumably as part of her stereotype.
LeShawna's Theme
Entrance of the Plaintiff (verse 1, "Comes the broken flower") from Trial By Jury (also works for Courtney or Lindsay)
(click on the link below for the MIDI file)
Comes the broken flower—
Comes the cheated maid—
Though the tempest lower,
Rain and cloud will fade.
Take, oh take these posies:
Though thy beauty rare
Shame the blushing roses,
They are passing fair!
Wear the flowers till they fade;
Happy be thy life, oh maid!
LeShawna/Harold Relationship Theme
"Hail, Poetry" (hymn from Finale Act I, MIDI file 3:32 – 4:11) from The Pirates of Penzance
(click on the first link above for the MIDI file)
Hail, Poetry, thou heaven-born maid!
Thou gildest even the pirate's trade;
Hail, flowing fount of sentiment!
All hail, all hail, Divine Emollient!
LeShawna/Heather Conflict Theme
"Strange the Views Some People Hold" (verse 1) from The Grand Duke
(click on the link below for the MIDI file)
Strange the views some people hold!
Two young fellows quarrel—
Then they fight, for both are bold—
Rage of both is uncontrolled—
Both are stretched out, stark and cold!
Prithee, where's the moral?
Ding, dong! Ding, dong!
There's an end to further action,
And this barbarous transaction
Is described as "satisfaction"!
Ha! Ha! Ha! Ha! Satisfaction!
Ding, dong! Ding, dong!
Each is laid in churchyard mould—
Strange the views some people hold!
Ad blocker interference detected!
Wikia is a free-to-use site that makes money from advertising. We have a modified experience for viewers using ad blockers

Wikia is not accessible if you've made further modifications. Remove the custom ad blocker rule(s) and the page will load as expected.