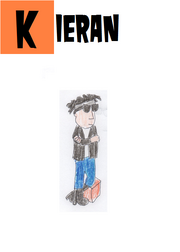 Kieran, the Cool Loner, is a character from BadAsp's fanfic Total Drama Alpharama.
Kieran is the epitome of cool. Leather jacket? Check. Denim jeans? Check. Sunglasses? Check. Attitude to go with all of the above? Check.
However, he does tend to keep to himself quite a lot. In a social game such as Total Drama Alpharama, this strategy is usually not recommended. However, he doesn't seem to mind one bit.
Why is Kieran like this? Perhaps he's hiding an important secret about his past, or prefers to strategize in solitude. Or maybe it would be best not to ask...
Ad blocker interference detected!
Wikia is a free-to-use site that makes money from advertising. We have a modified experience for viewers using ad blockers

Wikia is not accessible if you've made further modifications. Remove the custom ad blocker rule(s) and the page will load as expected.