This is a

Featured Character

. That means that it was voted to be one of the best and most beloved characters on the wiki.
Jacky
Killer Grips

The Etiquette Roses

 winter diamonds Of


Gender
Female
Hair color
Brown
Eye color
Green
Episode Eliminated
"TD:LCA - 28 Days Later

TDD - TBA"

Place
TD:LCA - 4th/5th

TDD - TBA

Relationship
CJ
Family
Mother
Friends
CJ, Dawn, Diem, Duncan, Dakota, Nestor
Enemies
Courtney, Gwen, Scott
Fear
Cockroaches
Talent
Dancing, Volleyball, Puzzles
Jacqueline, Jacky, labeled The Fierce Hipster, is a competitor on Total Drama: Lights Camera Action. She is also a contestant on Total Drama Divas as a member of The Etiquette Roses.
Background
Jacky, short for Jacqueline lives in southern California. She's well known in high school and is involved with a lot of school activities. She is a loving friend who always helps others in need. Jacky is your typical girly girl who is always up for a challenge. -
She first heard of TD when her friends were talking about it. She saw the series and immediately wanted to join. She auditioned for a spot to join the series and got the part.
Audition Tape
The camera turns on while Jacky is putting on mascara
"Give me a minute...and...done!"
She puts her mascara in the bag and tosses it to the floor.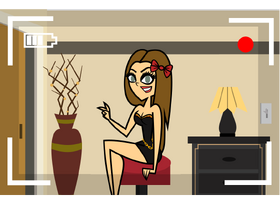 "Hi, my name is Jacqueline, Jacky for short and I think i would be perfect for Total Drama".
"Let me show you my room" She grabs the camera and turns it around. "As you can see my room is very high fashion, along with my clothes. Also, you can tell I'm dressed nice. First impressions count right?" She giggles. 
She grabs the camera and walks with it, "I may not look my best ALL the time but if you can't handle me on my Amanda Bynes days, then you can't have me on my Beyonce days." She flips her hair.
Jacky walks back and placed the camera back in its spot. "So I watched last season of Total Drama and I have to say I'm a big fan of Courtney and Gwen, they seem such nice people. If I was on the show, I know for a fact that we would be Besties."
"Duncan is cute but I don't want to interfere with the love triangle that's going on, plus It's not like I'm gonna find a boy and fall in love with him, pfft." 
She looks back into the camera, "I heard a rumor that this season would be about singing or even acting and I can do both! Check this out" 
She turns on Girlfriend' by Avril Lavigne.
She started dancing around  "Hey hEY YOU YOU, I DON'T LIKE YOUR GIRLFRIEND, NO WAY NO WAY, THINK YOU NEED A NEW O-WHOA!" She almost trips on her purse. 
"Oh my gosh, that was so close!" She kicks her purse into her closet. "Yeah I should probably wear sneakers or something but I love high heels and if I was chosen to be on the show, duh I would wear them."
She fixes her heel. "They are not gonna stop me! I can run in them, jump in them, and more, I'd be surprised if It came down to a race and I tripped in them and it would cost me the game but Ha, that's not gonna happen".
"Well Christopher McClean, pick me to be on the show! If you want Drama! You'll get it!" She winks at the camera.
"Byeeeeeeeeeeeeee!" She blows a kiss to the camera and turns it off.
Trivia
Jacky, Diem, Nestor, Saki, CJ, Olivia, Jonna, Sydney, Mei, Cornelia, and Ireland are new to the TD series.
Gallery
Ad blocker interference detected!
Wikia is a free-to-use site that makes money from advertising. We have a modified experience for viewers using ad blockers

Wikia is not accessible if you've made further modifications. Remove the custom ad blocker rule(s) and the page will load as expected.