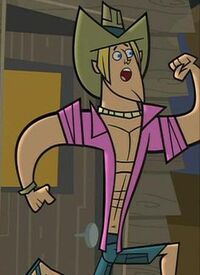 This character page is designed for use with Total Drama Island, by Gilbert and Sullivan
Characterization
Geoff is a likeable, athletic party boy inclined—sometimes to a fault—to live for the moment. Despite his apparent shallowness, Geoff was the only member of the Killer Bass, other than Courtney, to show any leadership inclination at all during the team phase of the competition. He eventually hooked up with Bridgette, after several clumsy overtures; and, although their relationship took longer to blossom, it eventually became as physically oriented as that between Lindsay and Tyler.
Geoff is probably the male contestant most widely liked by his fellows, and this led directly to his elimination because none of the other remaining campers thought they could beat him in the jury vote. His pursuit of Bridgette, and his eventual success in that endeavor, is his aspect most relevant to the TDI-G&S compilation.
Geoff's Theme
"A Private Buffoon" (verse 1) from The Yeomen of the Guard (also works for Owen)
(click on the link below for the MIDI file)
Oh, a private buffoon
Is a light-hearted loon,
If you listen to popular rumor;
From the morn to the night
He's so joyous and bright,
And he bubbles with wit and good humor!
He's so quaint and so terse,
Both in prose and in verse;
Yet though people forgive his transgression,
There are one or two rules
That all family fools
Must observe if they love their profession.
Geoff/Bridgette Relationship Theme
"None Shall Part Us" from Iolanthe
(click on the link below for the MIDI file)
None shall part us from each other,
One in life and death are we:
All in all to one another—
I to thee and thou to me!


Thou the tree and I the flower—

Thou the idol, I the throng—

Thou the day and I the hour—

Thou the singer; I the song!

All in all since that fond meeting

When in joy, I woke to find

Mine the heart within me beating,

Mine the love that heart enshrined!

Thou the stream and I the willow—

Thou the sculptor, I the clay—

Thou the ocean, I the billow—

Thou the sunrise, I the day!
Ad blocker interference detected!
Wikia is a free-to-use site that makes money from advertising. We have a modified experience for viewers using ad blockers

Wikia is not accessible if you've made further modifications. Remove the custom ad blocker rule(s) and the page will load as expected.