Ella

Name

Ella

Gender

Female

Places

No information

Eliminated in

No information

Friends

Zoey, Lindsay.

Enemies

No information

Ella was a character in Total Drama All Over Again. She was really smart. She is a parody of Snowwhite, Ella loves the character and looks like Snowwhite. She's begin to falling in love with Scott, but they are friends.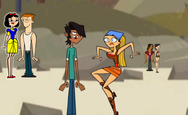 Ella appears in the first episode of this season. She arrived as one of the lasts. She was called 'Snowwhite' what made's Ella happy. She loves Snowwhite.
In All Over Again she arrived as first at the Island. Everyone called her snowwhite. She loves that. Later, she was a member of the Mad Lions. She was very quiet. In the cabin she was a member of the alliance from Zoey. With Lindsay. At the challenge, she talked with Scott. Scott is in love with Ella. Ella likes Scott to. But here prince on the white horse, need to ask her for a date. Not a boy, on a island. Ella didn't do the challenge fast. She walked around and gets non of the wooden pieces. But her team won. Ella was happy.
Ad blocker interference detected!
Wikia is a free-to-use site that makes money from advertising. We have a modified experience for viewers using ad blockers

Wikia is not accessible if you've made further modifications. Remove the custom ad blocker rule(s) and the page will load as expected.