Alejandro

Name

Alejandro

Gender

Male

Places

No information

Eliminated in

No information

Friends

Enemies

Courtney, Max, Mal.

Relationship

Heather

Alejandro was a character in Total Drama All Over Again. He is a big villain and has a relationship with Heather. He loves Heather really. He is friends with evil Max, and has an alliance with him.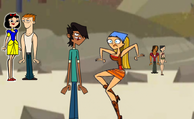 Alejandro was seen in the first episode from the first season. He looked angry in the begin of this episode, but he was in love with Heather. Later they has a relationship. Alejandro is in an alliance with his evil friend Max.
In All Over Again he arrived after Lindsay. When Alejandro arrives at the island he looked really angry at Heather and walks to Duncan. He loves Heather, but cant tell her that. When Max arrived he calls Alejandro the evil boy. He was glad to hear that but Heather was angry about it. He was later placed in team strange owls with Max, Heather, Courtney, Dawn and Scarlett. He is friends with Max. In an scene that's not seen, he's in an alliance with Max and they want Heather in it. Alejandro talks to Heather the next morning. After a little fight they have a relationship. At the challenge Alejandro did his best but loses. He was safe at the elimination ceremony.
In Gonna Get 'Em All when he wake up, someone knocks on the door. It was Heather. And Mike! (Mal). "Well, the evil four. We need to talk right now." Mal said. "And why? For what we will do it, then?" Max answered to Mal. "Good. I'm in a different team. But i have a idea. If you three the next challenges lose for your team, then can you vote for the other team members. When you are with these 3, i will lose the challenges for mine team. Are you three in?" Mal told and asked to the three. "What do you think, Heather.. if you agree with him, i'm to." Alejandro said. "Let's say this in a friendly mood. I will do my best this season, and i'm not gonna lose for someone that has nothing.
I'm out of this alliance, you can work for yourself." Heather said and when she said this she kissed Alejandro. "But i'm in, Mal." Max said to Mal. "If you lose this challenge for us, you are the next person that will be voted out." Heather said angry to Max. "Ok then Heather, but i'll get my revenge on you." Max said with an evil laugh. At the challenge, when Heather was caught he screamed; "Heather! Where are you? HEATHER!". When they look around, there's a bigfoot. He's running behind the team. "RUN!" Max said. "Yeah, i know we need to run bighead." Alejandro said to Max. "You will die, you three will al die!" Max said to the team. "Excuse me? You need to sh-" Courtney said, but was cuaght by bigfoot. "We need to run again, or we will lose the challenge i think.." Dawn said, and runs. The Strange Owls runs and arrives then at Chris. "WE WON! WE WON! WE WON!" Max said. But they didn't won. The other team has more team members. At the elimination he voted Max.
Ad blocker interference detected!
Wikia is a free-to-use site that makes money from advertising. We have a modified experience for viewers using ad blockers

Wikia is not accessible if you've made further modifications. Remove the custom ad blocker rule(s) and the page will load as expected.