This story is rated PG.
There may be some content not for younger kids. However, there is nothing here they wouldn't say on the Total Drama series.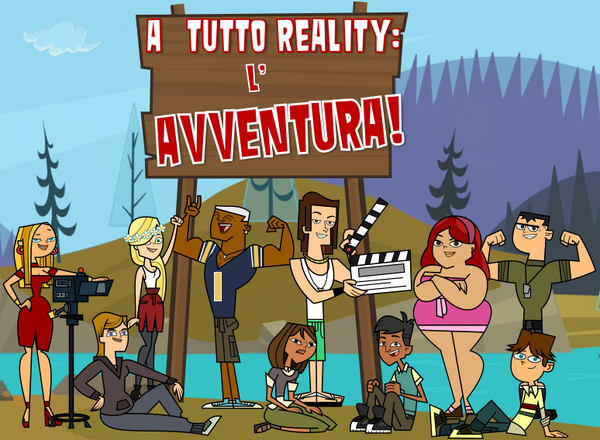 A Tutto Reality: L'Avventura!

Paese di Origine:
Italia.
Genere:
Reality TV,Commedia e Animazione.
Creato da:
-
Diretto da:
-
Vincitore/Vincitrice:
-
Stagione Precedente:
-
Stagione Successiva:
-
Panoramica
A Tutto Reality: L'Avventura! è lo spin-off italiano della serie americana Total Drama: Lights Camera Action. La serie a differenza di quella originale,non è ambientata in un set cinematografico,ma ben sì,in uno scadente campo estivo (nell'isola Wawanankwa).L'ambientazione non è l'unica differenza,perché anche la modalità di gioco è ben diversa.Intanto,ogni concorrente gioca per se stesso,non ci sono ne squadre e ne team.I concorrenti ogni settimana affronteranno una sfida immunità e colui o colei che vincerà,sarà immune dalle nomination.Il concorrente che (dalle nomination) riceverà più voti verrà eliminato,camminerà sul molo della vergogna,prenderà la barca del perdente e andrà via dall'isola per sempre.Il tutto verrà ripetuto finchè in gioco non saranno rimasti due concorrenti,che si sfideranno in un finale mozzafiato per vincere un milione di dollari.
Tabella Delle Nomination
     ENTRA: Il concorrente entra in gioco sbarcando sull'isola e divenendo un concorrente ufficiale a tutti gli effetti.
     SALVO: Il concorrente è salvo dall'eliminazione.
     IMMUNE: Il concorrente ha vinto la prova leader o ricompensa o immunità e quindi è immune dalla votazione.
     RISCHIO ELIMINAZIONE: Il concorrente rischia l'eliminazione, poiché è stato uno dei tanti a ricevere piu voti dal gruppo.
     ELIMINATO: Il concorrente è stato eliminato dal gioco.
#
Concorrenti
Puntata 1
Puntata 3
Puntata 4
Puntata 5
Puntata 6
Puntata 7
Puntata 8
Finale
Parte1
Parte2
1st
Ryan
Entra
Lightning
Blaineley
Jo
Annabelle
Dave
Cody
Cody
Vincitore
2nd
Courtney
Entra
Annabelle
Annabelle
Annabelle
Annabelle
Cody
Margaret
Margaret
Sec.Posto
3rd-4th
Cody
Entra
Blaineley
Jo
Annabelle
Courtney
Brick
Margaret
Eliminato
4th-3rd
Margaret
Entra
Annabelle
Annabelle
Annabelle
Annabelle
Dave
Brick
Cody
Eliminata
5th
Brick
Entra
Lightning
Blaineley
Jo
Annabelle
Dave
Ryan
Eliminato
(Quinto Classificato)
6th
Dave
Entra
Lightning
Blaineley
Annabelle
Annabelle
Brick
Eliminato
(Sesto Classificato)
7th
Annabelle
Entra
Courtney
Blaineley
Jo
Margaret
Eliminata
(Settima Classificata)
8th
Jo
Entra
Lightning
Brick
Brick
Eliminata
(Ottava Classificata)
9th
Blaineley
Entra
Annabelle
Eliminata
(Nona Classificata)
10th
Lightning
Entra
Brick
Eliminato
(Decimo Classificato)
Rischio Eliminazione:
Nessuno

Annabelle,

Lightning.

Annabelle,

Blaineley.

Annabelle,

Jo.

Annabelle,

Margaret.

Cody,

Courtney,

Dave.

Brick,

Cody,

Margaret,

Ryan.

Cody,

Margaret.

Courtney,

Ryan

Televoti:
Nessuno

Lightning

4 voti su 8

Blaineley

5 voti su 9

Jo

4 voti su 8

Annabelle

6 voti su 7

Dave

3 voti su 6

Brick

2 voti su 5

Margaret

2 voti su 4

Ryan

Vincitore

Courtney

Seconda Classificata

Cody

2 voti su 4
Ad blocker interference detected!
Wikia is a free-to-use site that makes money from advertising. We have a modified experience for viewers using ad blockers

Wikia is not accessible if you've made further modifications. Remove the custom ad blocker rule(s) and the page will load as expected.